OKI "Feniks" Kikinda - News
The First "Tuzla Cup 2010", 2nd October 2010
This international tournament was organized for the first time by OKI "Tuzla" from Tuzla. Matches were played in the small hall of Mejdan sport center.
Our hosts intend to make this tournament traditional, to held it in the same period of following years, and even to increase the number of teams. We wish them good luck in that effort!
This time, eight teams were attending the tournament: the six teams from BiH, ISO "Samorastnik" from Ravne (Slovenia), and KSO "Feniks" from Kikinda (Serbia).
Very interesting games were played and the Cup winners title was won by the team from BiH premier-league "Drina" from Sapna, as it was expected. In the final match they defeated the Tuzla team with result 2:0. In game for the 3rd place, Tigar '119 from Banovići defeated Brčko with the result 2:1. KSO Feniks took the 5th place, after the first win ever against a BiH first league member, the team OKI "Čelić" from Čelić.
Final standings
| | |
| --- | --- |
| | |
| 1. | OKI Drina - Sapna |
| 2. | OKI Tuzla - Tuzla |
| 3. | OKI Tigar '119 - Banovići |
| 4. | OKI Brčko - Brčko Dištrik |
| 5. | KSO Feniks - Kikinda, SRB |
| 6. | OKI Čelić - Čelić |
| 7. | ISO Samorastnik - Ravne, SLO |
| 8. | SIOK 14. maj - Kalesija * |
| | |
Players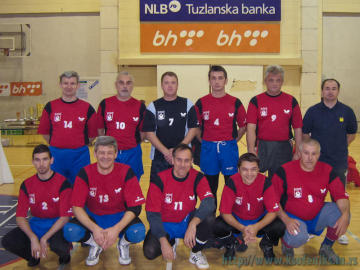 Standing: Marić, Budurin, Milošev, Brandić, Đuričin, trener Dragin
Squating: Janjatović, Zavišin, Anđelov, Golijanin, Setorić
Photos from tournament